Sunday, April 04, 2010 @ 07:19pm
our old "dining room" is starting to look like a craft room. i designed a room using the ikea software and came up with this: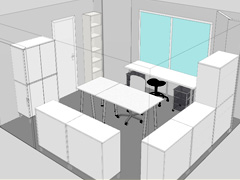 the bookcase is "
billy
" , the desks in the center of the room are "
galant
", the desk against the window is "
vika
" (i think?), and the storage cabinets are "
effektiv
". i plan to use the top of the single-unit-height cabinets as counters and put my crafting "appliances" on top. today, we went to ikea and picked up half of the furniture and started building. the bookcase is up, as well as two of the cabinets. i can't wait to move all my stuff down there!